We are thrilled to introduce our latest collaboration with the very talented Michael A. Koby Turtleheart. Michael, a 2S (Cree & Eastern Tsalagi) artist & storyteller, has teamed up with AYA Optical to bring you a stunning collection that embodies his creative vision and AYA Optical's commitment to quality and style.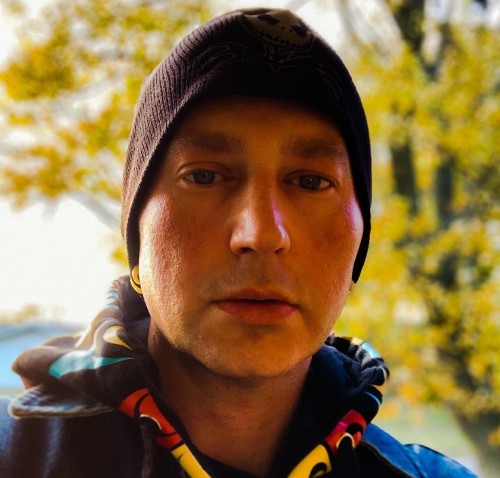 The optical styles, Strength, Pace, and Freedom, and all feature stunning horse artwork by Michael.
We spoke to Michael about his inspirations for his artwork.
Q. What was your inspiration for the Cree horse series?
Focusing on horses was easy - wild horses, spotted horses, and the painted horses of my ancestors fill my dreams.
I wanted something that was bold & simple - something that with a splash of color says 'We Are Still Here', we have a beautiful language, we have a visual vocabulary…. I knew I wanted bold, strong colors and a sense of movement. I also wanted to touch on the spiritual connection that rider & horse share. After many false starts I settled on the simplest representation of a horse - where petroglyphs & pictographs meet Matisse. By simplifying the horse to just its primary shape I was able to give the color chosen and each marking more importance.

Q. What are some significant elements in your design that are important to you?

(On the 'Pace' design) - The idea of the red handprint (originally placed on a horses as a warning to enemies or a mark of protection) is so important now in our own times due to the issue of MMIWG2S (the Missing and Murdered Indigenous Women, Girls, and Two-Spirit). This epidemic of targeted violence has gone too long unreported & underreported. A red handprint now represents the Missing & Murdered throughout the United States and Canada - these are our grandmothers, mothers, sisters, aunties, cousins, friends - to me the red handprint now means 'Bring Them All Home'.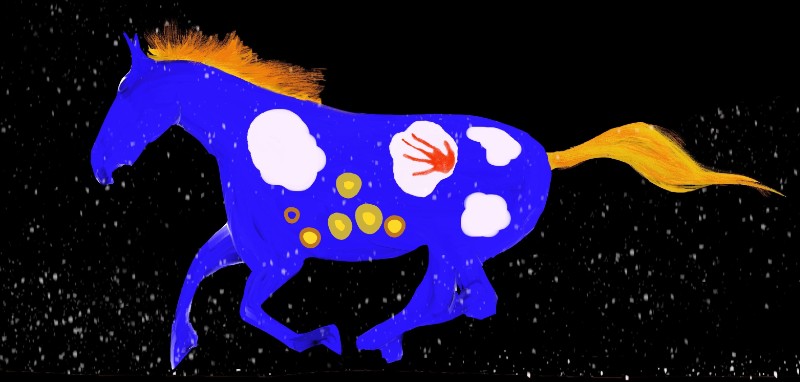 On the 'Strength' design the red horse body doubles as a simplified/abstract eagle feather.
The horse and eagle feather are powerful - they represent Strength - they are Messengers - there is a spiritual thread that connects us people to both the horse and the eagle. The spiritual and life energy of both animals is conveyed by the blue arrow extending out from both.


On 'Freedom' I wanted 2 painted horses running - unbridled, dust being displaced behind them. The idea of what it means to be truly free. What if we were entirely cut free of everything that holds us back? What does it feel like to be completely free - to speak honestly, to be oneself, to create what we really want to create, to sing our own songs? When I'm creating I often dream up stories as the image comes to life on the canvas - while painting this one, I was thinking about two painted war ponies. Their keepers or riders cut them free before being captured. For a moment they are confused and stay still (thinking they are still restrained or held back by their handlers). Then something shifts - these horses realize they are unrestrained - they run full speed ahead, leaving only dry prairie dust behind.


Q. Do you have a favorite artist?

There are so many artists that have inspired me. Van Gogh (color/texture) and T.C. Cannon (indigenous portraiture in bold popping colors). But to go full circle, the simplicity and power of Henri Matisse's cut-outs…in the last years of his life he created this universe of bold colored forms that represent foliage, human beings, etc.. They are not merely decorative - They feel mythic, both ancient and modern.

Q. What other things inspire the artwork?

Walking on the land & music. The playlists I create for the studio are all over the place- Chopin, Buffy Sainte-Marie, Cocteau Twins, Tanya Tagaq, Nina Simone, Björk…they actually do have these things in common…A skill at composition. An interesting way of vocalizing. They are all interpreting their experience in the world in an audible way. I feel like visual artists do something similar (synthesizing our experiences into patterns & movements) but our experiences leave something visual behind.
I'm also really inspired by historical photography of indigenous sitters (between the dawn of photography and into the 1970's) & indigenous beadwork - there are stories embedded within them. Stories waiting to be told and/or interpreted. In many ways they Speak if we Listen. They tell of our history, and I see them as very much alive.