Posted by Noelene Searle on 5th Mar 2018
" In 2003, I formed the AYA brand and began planning the initial collections. And while visiting Vancouver that year, I met Corrine Hunt at a One-of-a-Kind craft show. "I loved her design aesthetic, her passion and her integrity. When I moved back to Vancouver in 2004, she and I discussed my idea for AYA Eyewear and I commissioned some artwork from her. My idea was for "wearable art" that integrates the aesthetic of the Pacific Northwest."
- Carla D'Angelo founder of AYA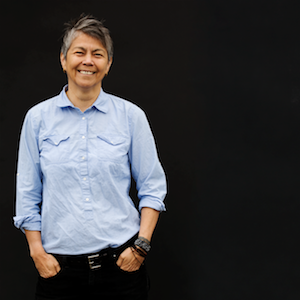 Corrine Hunt
Q. When were you first bitten by the art bug?
All my life art and artists surrounded me. As a member of the Raven Gwa'wina clan from Ts'akis, a Komoyue village on Vancouver Island, my rich family history includes internationally renowned First Nations artists Henry, Richard and Tony Hunt, all of whom have influenced my art. Uncle Norman Brotchie was also an early teacher and mentor, and his beautiful hand engraved jewellery was instrumental in introducing me to Kwakwaka'wakw art. I first was twenty when I first began creating art.
Q. What role does your heritage have in your art? My designs are inspired by my family and cultural history. I come from a distinguished family of artists with a rich history. My paternal grandfather was a Kwakkwaka'wakw chief and my paternal grandmother a noblewoman from Alaska. My art is based on the themes and traditions of my First Nations Kwakiutl and Tlingit heritage.
Q. How do you incorporate storytelling in your art?
In all of my artwork I seek to incorporate my heritage and bring stories of my people to contemporary life. I seek to show how both First Nations people and their art have evolved.
Q. What inspires you? What catches your creative eye?
I credit my relatives and fellow carvers Tony, Richard and Hentry Hung as my artistic inspirations. And also the natural world- my work features design characteristics common to the Northwest Coast Aboriginal peoples including depictions of animals such as the killer whales, wolves.
Q. You work in a broad range of mediums —Some are very traditional, others are more current and evolving. Is there one you prefer? Does the more traditional work play into, or inform, the modern-day techniques?
Since 1985 my work has included engraved gold and silver jewelry, mukluks, totem poles and furniture carved in steel and reclaimed wood and accessories such as the AYA eyewear. I have been on the front lines of meshing the traditional with the modern. I prefer mediums that are practical but infused with cultural significance. When Carla approached me about creating eyewear with native motifs I loved the idea. "I want people to look at these westcoast designs and see the world I live in. Our culture is a living thing – adaptable, modern and fresh."