Posted by Taylor Jurik on 12th Sep 2021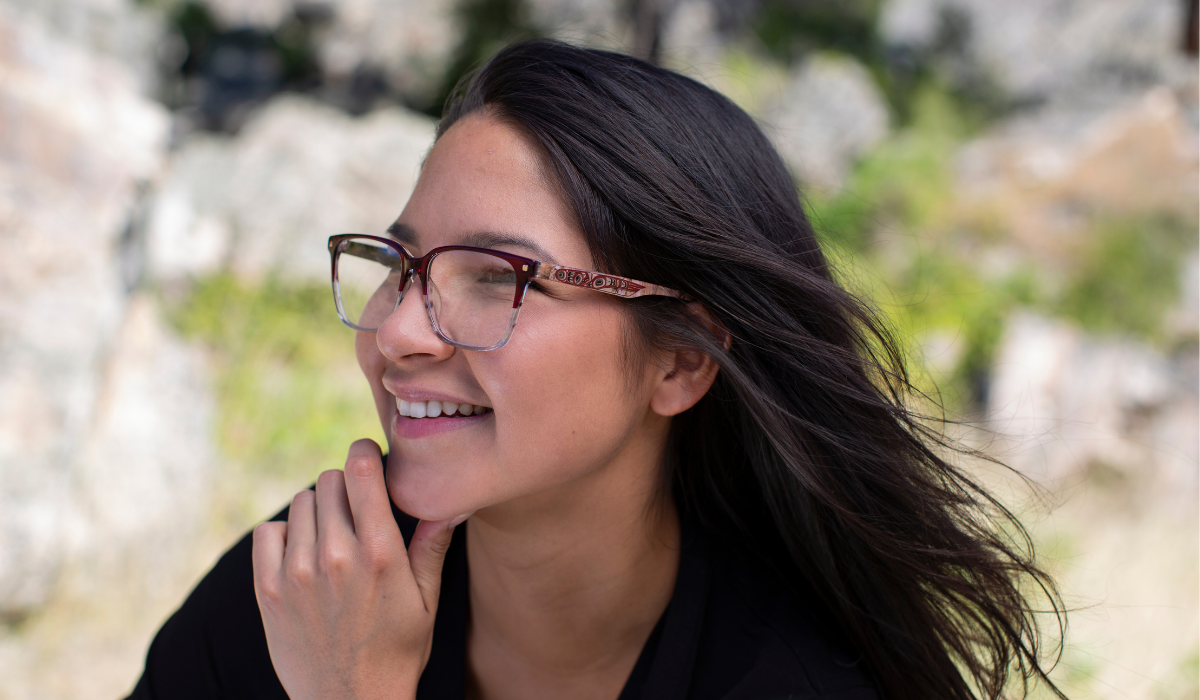 Is it time for a new pair of eyeglasses? We get it, buying a new pair of glasses online can seem intimidating at first. It can be especially difficult when you are not able to physically try them on. You may wonder how to correctly enter your prescription information, or you might have a hard time figuring out if a certain frame will fit your face properly.
There are some important points to consider when you are purchasing a new pair of eyeglasses. Refer to these 5 easy steps to guide you through the process of purchasing your new AYA Optical glasses online.
1. Know Your Prescription Details
If you aren't up to date on your annual eye examination, start by booking an appointment with your optometrist. Typically, RX prescriptions are acceptable within a 2-year range.
Once you have an updated prescription, familiarize yourself with the details of your RX. Is your prescription for distance or reading? Are your lenses single-vision or progressive?
We currently offer the option to fill single-vision prescription lenses through our website. At this time, we do NOT fill any prescriptions for multifocal or progressive lenses.
For those who require progressive or multifocal lenses, you may order our optical frames with Demo Lenses (frame only). Simply take your new frames to your optician to have your customized lenses inserted!
2. Find your Glasses Measurements

If it's available to you, knowing the measurements of your current frames is helpful when selecting the perfect pair. Have a look at the temple arm on your existing glasses to find the right figures.
Frame measurements are made up of three numbers and can be found in the 'Other Details' section of the product description. Frame width is usually the most important factor in determining a good fit.
Let's look at a typical frame measurement 51-18-135:
The first number (51) represents the width of one lens in millimetres (mm). This number will give a sense of the frame's overall width. In general, a larger number means a wider frame.
The second number (18) represents the bridge width and also is an important factor in determining fit. This is the distance between the two lenses. If you have a narrow bridge or close-set eyes, you will want this number to be lower. If you have a wider bridge or wide-set eyes, this number can be higher.
The third number (135) is the temple length. This is the measurement in millimetres of the 'arm' of the frame.
The vertical height or otherwise known as the B-size of the lens is important in determining whether or not multi-focal or progressive lenses can be used in the specific frame you choose. Any frame with a B-size dimension of 30mm or more should work perfectly fine for progressive lenses.
3. Pick Your Favourite Frames

After you determine your measurements, the fun part begins! Head on over to explore our selection of optical frames. We offer a variety of unique styles that feature incredible designs by First Nations artists. There is a frame available for every face shape. If you would like to find which frame style will fit your ideal measurements best, click here for a list of the exact sizing details for each frame.
Think about these questions when browsing for your new eyewear:
Which style will complement my face shape?
Which designs speak to me and will show off my individual style?
What colours will suit my skin tone?
4. Select Your Lens Type
Once you've selected your favourite pair of frames, it's time to complete your order by selecting the lenses.
You might consider adding BluSelect lenses to your single-vision prescription for an additional fee (+$95). BluSelect lenses are an innovative technology to help protect your eyes from the harmful effects of blue light emission.
Simply upload a copy of the RX prescription that you've received from your optician when selecting your lens type.
5. Place Your Order
The hard part of buying glasses online is over! Once you've entered your prescription information, picked out your favourite frame, and added your lenses, it's time to checkout. Simply enter your shipping details and preferred method of payment.
Once your order is received by our team, we usually require a few weeks to complete your lenses. We will send you a tracking number as soon as your order has been dispatched.
If something isn't quite right with your frames or lenses, contact us right away. Keep in mind that we offer a 30-day hassle-free return policy for our prescription eyewear. If you've ordered the frames only, you have 90 days to request a refund, exchange or credit.
Do you have any additional questions about ordering glasses online? Leave us a comment below, or send us an email at customerservice@claudiaalan.com.